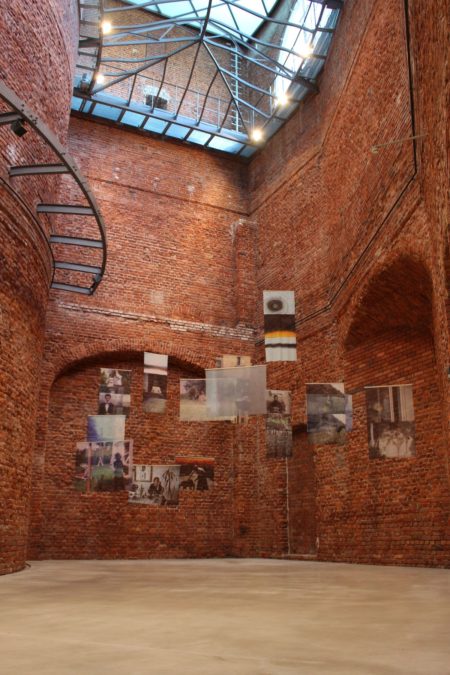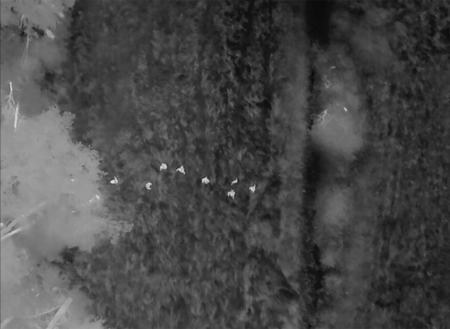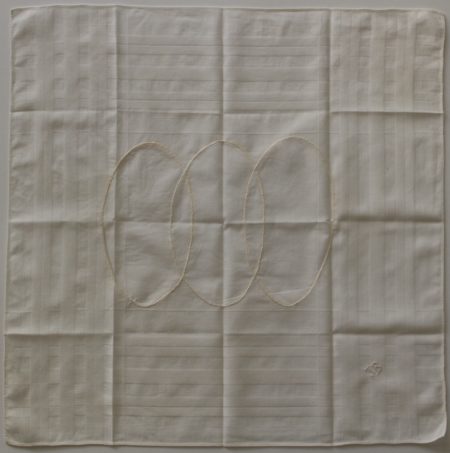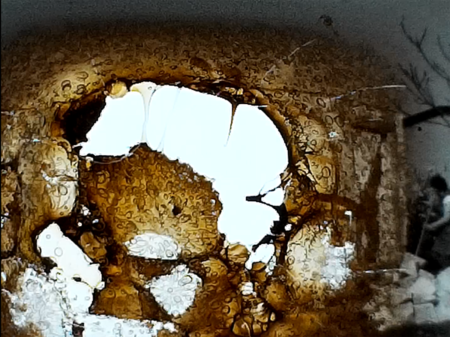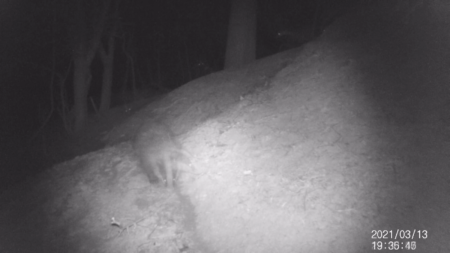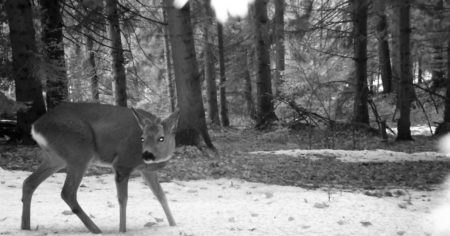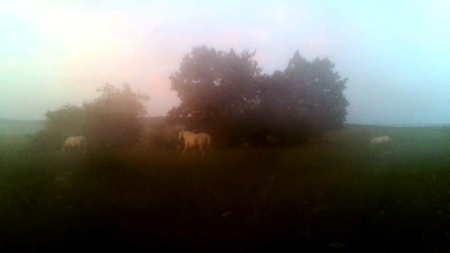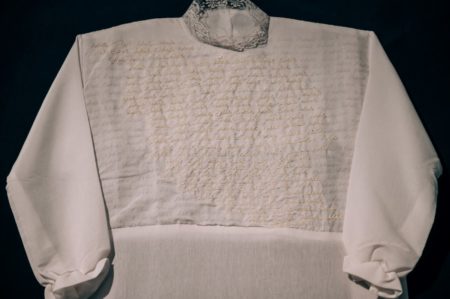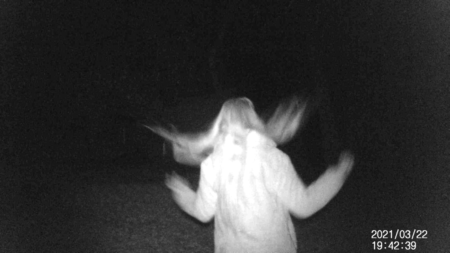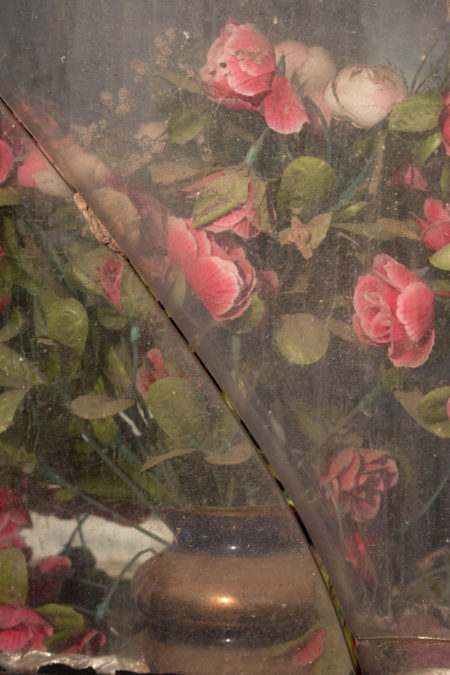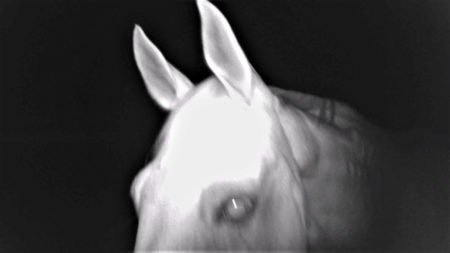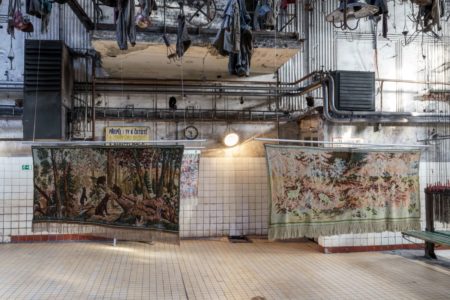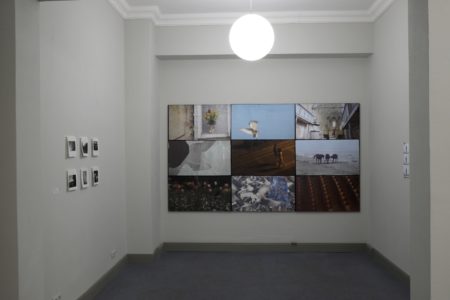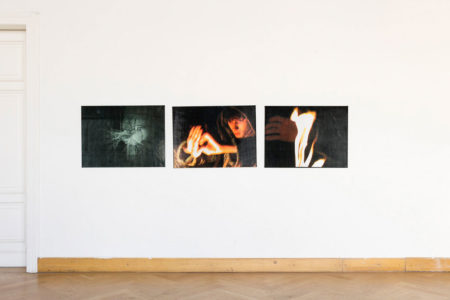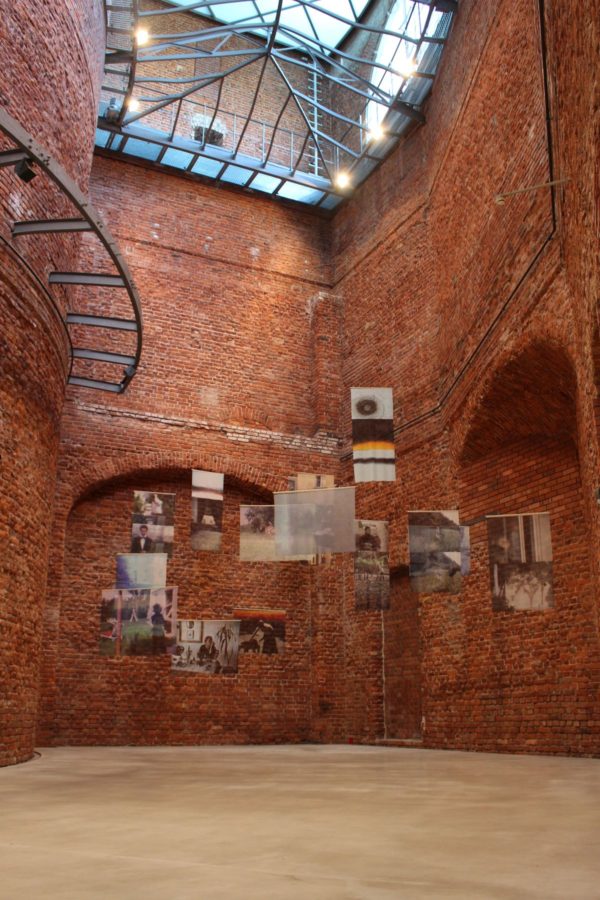 Phantoms of Time
Installation, Filmstills on transparent Silk, Sound (Breath)
For my installation "Phantoms of Time" I worked with film material that was shot between the '70s and the '90s in my family circle, The amateur films show everyday scenes, captured by various family members on different occasions. In contrast to looking at photo albums, I was fascinated by the authenticity of the film, which shows not only one picture, but always contains a before and an after. This allowed me to experience a time that is the precondition of my very own existence but that I cannot experience. With the bond to the generations before me, I perceive the recordings as present, but to me they are history, because they originate from the time before I was born. I go back to the past from my point in the future, which I know, whereas the protagonists in the films don't know it yet. The film material is a storage of time in which I can repeat and repeat again, like in a matrix, actions which really happened in the past. I take part in the mortality and vulnerability, the never-ending, inescapable change of the generations. The random nature of the shots opens up a feeling for eternity. For the eternal now, which alone forms our experience. The figures in the films are true, and yet it is only possible to capture a metaphoric, imaginary existence – they become bodyless phantoms of their own. […] The basis for an individual existence is the breath, from the first to the last. In the process of inhaling and exhaling, the cycle of birth and death, contraction and expansion becomes manifest – the polarities synergize. The sound of the breathing is omnipresent and at the same time being given. The individual experience of time is terminated – yet time doesn't end with the end of an individual. Within the changing of generations, memories and experiences are carried – inescapably, we are confronted with the fragility of our own existence and the passing of the individuals. The breath projected into the space is meant to be carrying and to refer to an infinity beyond the personal.

im Juli 2021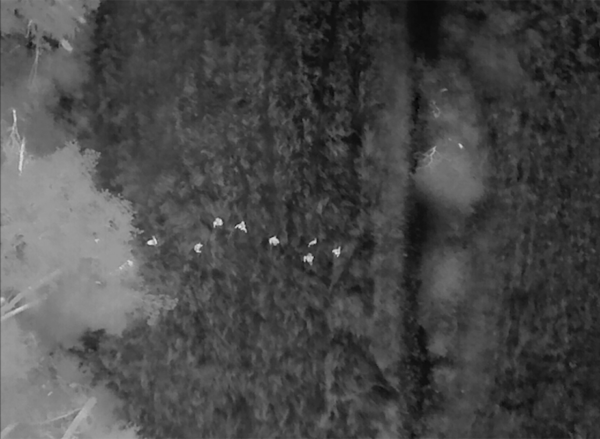 Big Mother
Filmstills from Video, 5min 20s, 2023
Footage: Rhein-Main-Drone, Rettungshundestaffel Barnim
Voice: Angela Lieber
Tierschutz durch Technologie?
Mona Freudenreich verhandelt in ihrer Videoinstallation "Big Mother" das Potential des Einsatzes digitaler Prothesen für ökologische Zwecke.
Düstere Luftaufnahmen von Wärmebildkameras, deren Ästhetik an Überwachungs- und Kriegsszenarien erinnert, werden mit detailierten Bleistiftzeichnungen von Rehkitzen auf weißem Seidenpapier kontrastiert. Erst auf den zweiten Blick erschließen sich die Zusammenhänge: Die Aufnahmen dokumentieren Rehkitzrettungen, bei denen die Jungtiere im hohen Gras mit Hilfe von Drohnen geortet und durch Helfer:innen vor dem Mähtod bewahrt werden.
Bietet der Einsatz neuer Technologien Lösungen für Probleme des Umwelt- und Artenschutzes? Gibt es Alternativen? Wo liegen die eigentlichen Wurzeln der Konflikte zwischen Mensch und Natur?

Text: Fabian Kassner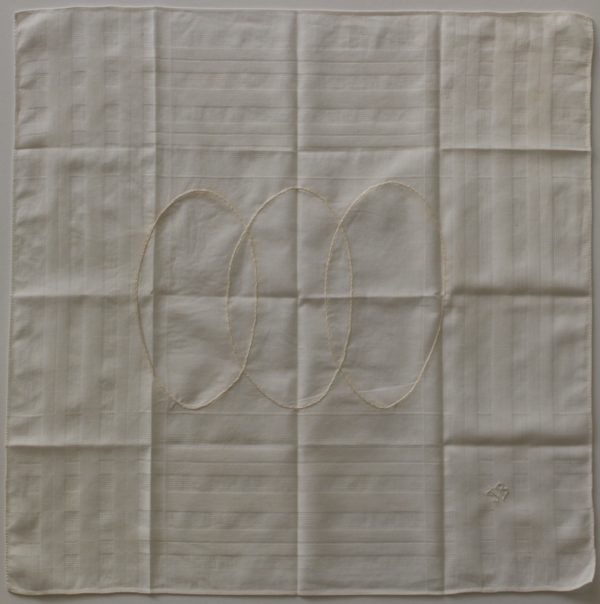 last night's dream
Handkerchiefs, Embroidery, each 40x40cm, 2022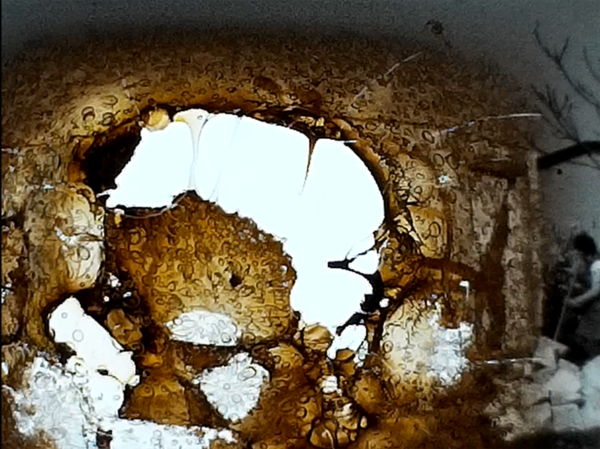 when the house is finished, death moves in
Video, 1min 21s, 2022 (exerpt 30s)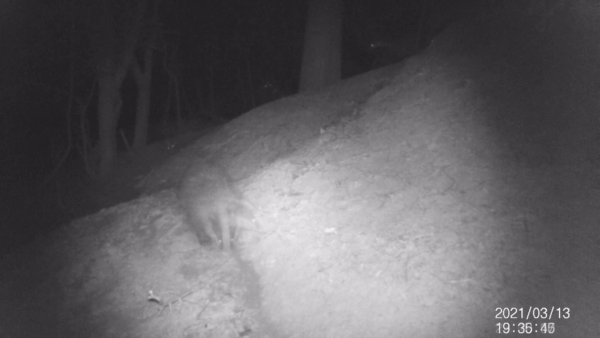 we are ghosts
Video, 3min 45s, 2022 (excerpt 23s)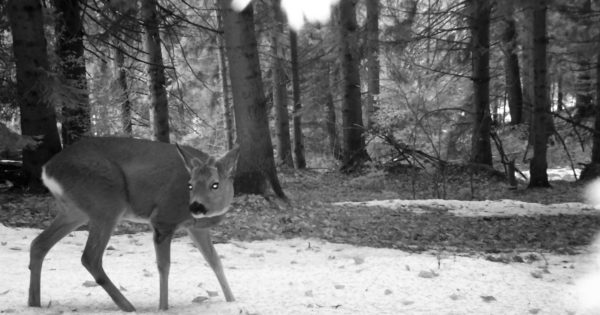 Es war und es war nicht I+II
Filmstills from Videos I+II (each 5min), 2020
Footage: Foundation Conservation Carpathia
Nature is unaware of our concept of time. It was there before us and will be there after us. It does not need us – yet we need it. What is humanity? Are we not also nature? […] This actual absence of humans, creating an enigmatic mystery, is the core of the video works shown here.

aus: Atemwende – OSTRALE Biennale, 13. Internationale Ausstellung, Dresden, Katalog 2021.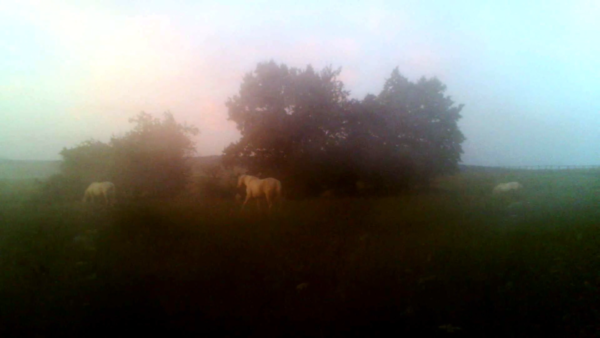 Poem to a Horse
Video, 3min, 2021 (excerpt 30s)
The ghosts of silence
wander through our dreams
In the mist of loneliness
The meadows of our longings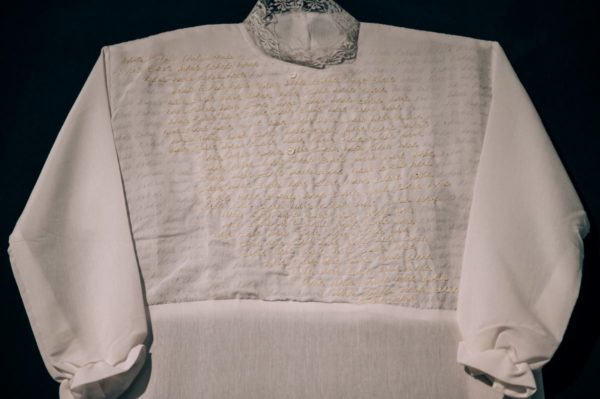 Talare
Shrouds on Velvet, Embroidery/Textile Colour, 140x210cm, 2019-2020
Our sense of time supposedly forms a stable foundation within which we see ourselves as sentient beings. Action is only possible in the now as this is the only state which we can experience with our senses. The now is eternal in that it unites the future and the past. Finiteness determines our physical existence and the cycle of nature. With the end of an individual comes the end of their experience of time. The form of a living being familiar to us changes in its matter to become part of the cycle from which it came. The awareness of impermanence and context makes it possible for us to recognize that there are things that reach far beyond us. It focuses on the moment.

aus: ZUKUNFTSVISIONEN – An die Substanz! Katalog 2020.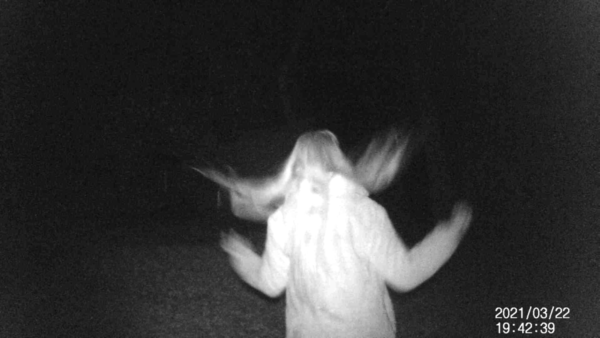 Follow Me
Stills, 2021
She said
Follow me to the lodge
where the woodpeckers nest
at night
To fly home
Through space and time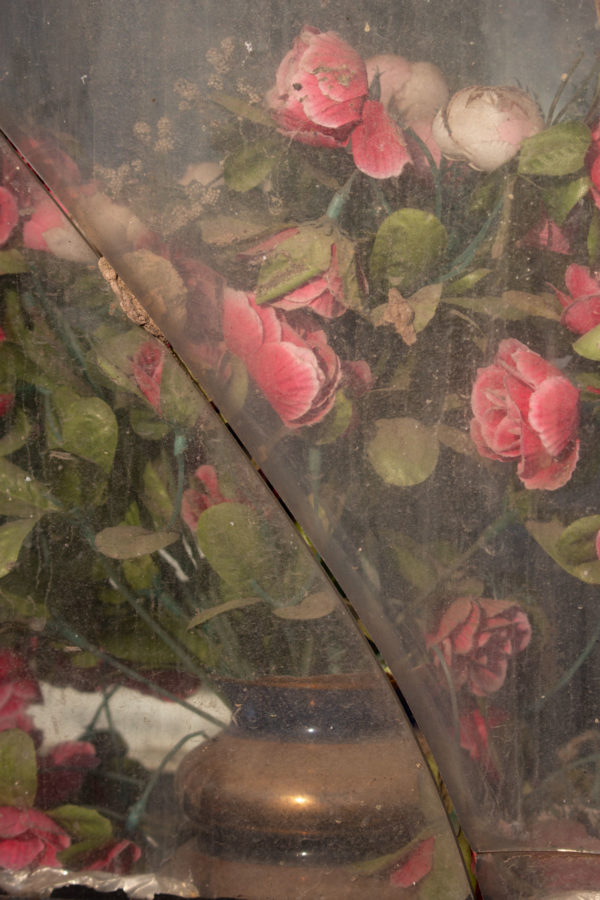 eternal
2019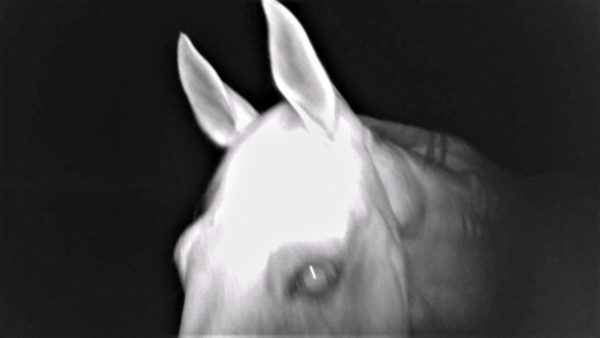 Nachtschatten
Filmstills from Videos, two Parts: 2min 23s und 2min 5s, 2020
Die beiden Videos Nachtschatten I und II versetzen in eine traumhafte, nie ganz fassbare Szenerie, die uns davon trägt in eine andere Welt, in der das Grau zu erzählen beginnt, in der es sich bewegt und Bilder einer intensiven Strahlkraft zu generieren beginnt. So leuchten die Augen nicht nur der Hasen in der Nacht, es sind auch die Augen des Traums, sie brennen von innen heraus. Es geht hin und her, vor und zurück – man könnte sagen: eine wunderschöne Darstellung dessen, was Freud mit der Rück-sicht auf Darstellbarkeit meinte. Die Glühwürmchen sind die Augen der Nacht sind unsere Träume.

Jury-Begründung zum Link 2 Future Preis des Psychoanalytischen Seminars Zürich für Psychoanalyse und (…)
Während ich schlafe, bin ich wach
Im Dunkel der Schatten zeichnen sich Gestalten ab
Sie sind mir vertraut
Aber ich habe ihre Namen vergessen
Im Traum begleiten sie mich
Ich trage sie in den Tag
Um ihr Geheimnis zu kennen
Immer ein wenig weiter
Bis sie in mir ihr zuhause finden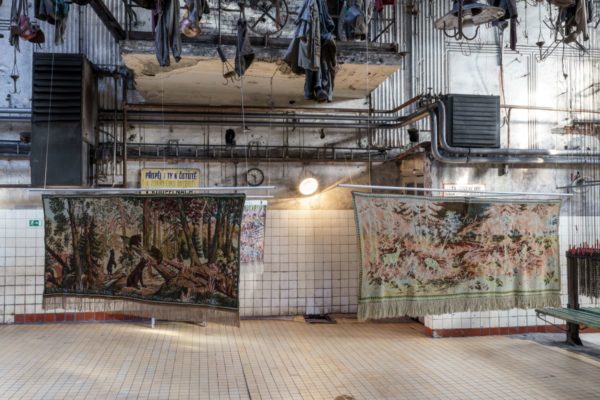 The Touch of Time (Chernobyl)
Tapestries , Embroidery, various sizes, 2019-2022
Something romantic in today's parlance often denotes a state of sentimentality and longing. In the 21st century – as a result of dystopian threats such as industrialisation, economic explotation, climate change, littered seas, factory farming and nuclear disasters – this image seems to exist only in the guise of kitsch. The longing for a lost paradise implies that it no longer exists as such. More than 30 years ago, a major disaster occured in Chernobyl. From one hour to the next, thousands of people had to leave the exclusion zone for ever, leaving behind everything that was dear to them or had determined their lives up to that point. A few decades later, the contaminated area has apparently become a natural paradise where bears, wolves and even wild horses roam. A deceptive idyll? Or is humanity an even greater enemy of nature than radioactivity?

aus: Atemwende – OSTRALE Biennale, 13. Internationale Ausstellung, Dresden, Katalog 2021.
>> Die Lehrerin hat gesagt: > Zeichnet die Stahlung. < 
Ich habe einen gelben Regen gezeichnet ... 
Und einen roten Fluss ... <<
Julia Taraskina, 15 Jahre alt

>> Wo das Dorf war, ist nur noch ein Feld. 
Unser Haus ist dort begraben. Und auch die Schule 
und das Dorfbüro. Und mein Herbarium 
und zwei Briefmarkenalben. <<
Wassja Mirkulitsch, 15 Jahre alt

>> Jeden Tag bekamen wir die Zeitungen. Ich las nur die 
Titel:  > Tschernobyl, Ort der Heldentaten < , 
> Der Reaktor ist besiegt < , > Das Leben geht weiter <. 
Der Politoffizier unserer Einheit organisierte Versammlungen 
und sagte uns, wir müssten siegen.
Aber wen besiegen? Das Atom? Die Physik? Das Universum? <<
Arkadi Filin, Liquidator

>> Radioaktivität. Gefahrenzone. Weiden von Vieh und 
pflücken von Beeren und Pilzen verboten. <<
Warnschild, verbotene Zone

>> Man hat uns geraten, zur Gartenarbeit Baumwollmasken
 und Gummihandschuhe anzuziehen ... Und ein sehr 
aufgeblasener Gelehrter hat behauptet, man müsse das 
Brennholz abwaschen ... 
Hat man schon mal so einen Unsinn gehört? <<
Sinaida Ewdokimowna Kowalenka, illegale Bewohnerin der Zone

>> Ich war nicht im Krieg, aber ich hatte das Gefühl 
von etwas Bekanntem ... Ich kann nicht sagen, woher das kam, 
aber es hing mit dem Tod zusammen ... <<
Oleg Worobej, Liquidator


Zitate: Swetlana Alexijewitsch 
Tschernobyl. Eine Chronik der Zukunft.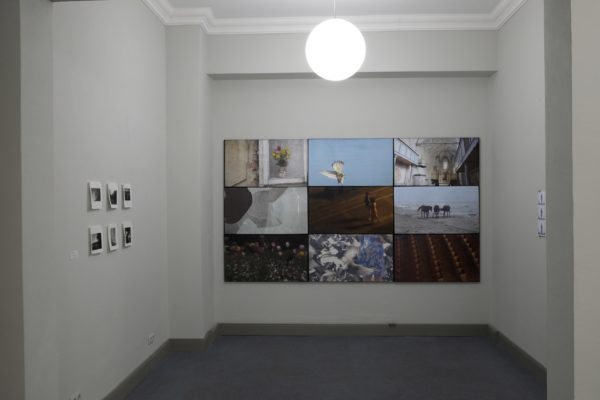 Zeitfenster (Rumänien)
Filmstills on Velvet, ca.3x2m, 2020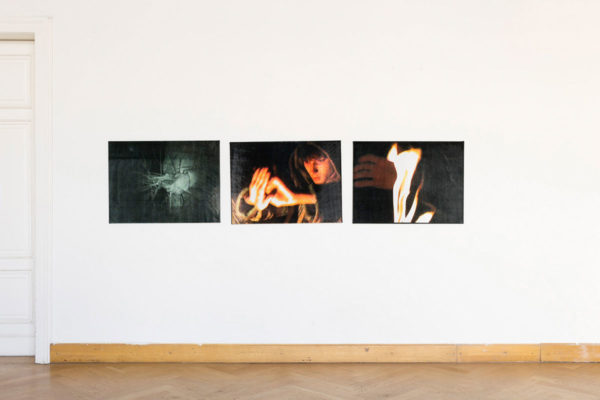 Zeitfenster (Flamme)
Filmstills on Velvet, je 80x100cm, 2020